14 juillet 2007
SEASAT 1 ALWAYS MAJESTUOUS
seasat_majestic
seasat_1_always_majestuous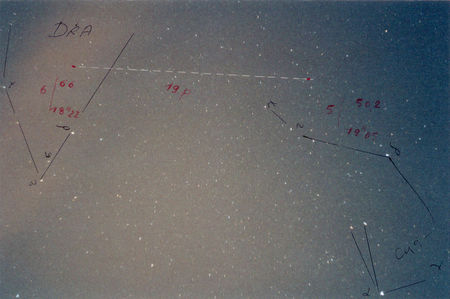 Since its launch , its altitude decreased from 800 kms on 1978 to 750kms on 2007 so it became brighter every year. Its transit seems to be that of a mere heliosynchronous(98°) one but the computer gives with any doubt an inclination of 108 degrees .
That value induces a reverse movement of the orbit. Every day it shifts 1.1 degree=4.4mn Easter and Seasat 1 appears later every day. It is the only one to have such a movement perceptible over a week.
Cosmos 1484 roc, Cosmos 1484 and Helios 1A roc have a retro shift but perceptible over a year.(respectively 31mn,80mn,67mn)
See photos of Seasat 1 on 10 July 2007 24H 20(TU+2) mn and ground track on FRANCE.
Commentaires
Poster un commentaire